New Web Solutions
We've added many products and tools you will not find anywhere else. Our e-commerce solution
eShopCity
uses web2.0 Ajax technology extensively and compared to other very complex shopping cart systems our solution has been designed to be the simplest store to setup and manage. A booking engine module can also be installed along side the eShopCity e-commerce platform allowing online bookings to be taken and paid for online.
The web management software we use to manage our sites is now available for purchase. It is the same tool we use to manage this site and hundreds of others. This tool has been designed to manage multiple websites in one common control interface. It is now possible to create your very own preset or template designs to offer to your clients.
Our
social networking
hub is also now availabe to purchase online. Profiles or sites can be setup and each creatively designed and linked together to form a social network. Live chat, messages, add friends, view live site activity. Networks can be made public or private.
Community
options can be added to your site so friends and web users can add their profiles and leave comments on a page with a live activity feed.
Our internet solutions cover many key areas but we never forget the basics:

Search engine friendly links automatically created
Simple to use administration utility to manage your site
Iphone compatible sites
Multi-language sites
Set site to private view only

Add photo galleries, text, to any page

Change to another preset design at any time and no data is lost or links broken.

Support Ticket System
| | | | |
| --- | --- | --- | --- |
| | | | |
| | | | |
| Show comments left by your web users on any page. Your web users can publish a picture of themselves. | Add stunning flash photo galleries to any page simply. 7 gallery styles to choose from. | Display listings such as property, boats, staff, cars etc... all fully searchable | Add a blogg/event page. Calendar is displayed with event highlighted for easy location of blogg/event. |
| | | | |
| | | | |
| | | | |
| | | | |
| Add widgets to any page or to the side bar which is displayed on all pages. Facebook/myspace links can be added. | Display all your news. Text can be changed so you can use this area as you wish. | Sell your listings online with our eShopCity e-commerce solution | Each listing can be reserved or hired with calendar displaying available dates. |
| | | | |
| | | | |
| | | | |
| | | | |
| Easily work on a copy of a page without affecting the live version. Simply click the drafts button. | Up to 7 languages can be run at the same time. All text can be customised throughout the site. 20 languages can be selected. | Track your most popular pages. | Animated menus automatically built using search engine friendly code and look great. Hundreds of designs to choose from. |
| | | | |
| | | | |
| | | | |
| | Search Engine Optimised Pages | | |
| To make text really stand out insert some flash text. No flash experience required or 3rd party software. | Add keywords to any page to make sure your pages get indexed by search engines. URL's optimised for search engines incorporating page title. | 100+ professionally designed templates available all can be easily customised to fit your requirements. | Edit any image uploaded to your site simply using the admin panel. No need for graphics software. |
| | | | |
| | | | |
| | | | |
| | | | Support Ticketing System and Help |
| A collection of handy prebuilt scripts available. Rounded box tables 100's to choose from | You have total control over all the text displayed. Change news to press releases its up to you. | Track all purchases and recurring payments in the admin panel. Purchase additional modules and get them instantly. | Each page has its own advanced help guide. Support ticket system has been integrated to the admin. |
| | | | |
| | | | |
| | | | |
| | | | |
| We can build a page to your exact requirements which may include custom programming if required. | Web users can rate any page by clicking on stars 1 to 5. | Search text appearing anywhere on your site including web pages, listings, blogg etc... | Update your website like a desktop application. |
| | | | |
| | | | |
| | | | |
| | | | |
| Our new drag and drop design tool makes customisation a breeze. | Earn an income from your website by offering a members only area. | Secure login to the administration area for added protection. | Live activity monitor for social networking sites. |
| | | | |
| | | | |
| | | | |
| | | Template Monster Integration | |
| Web site map automatically generated each time you add a page. Your web users will find it fast and so will search engines. | Webmail access to your email through the administration area. The best email client is supplied from smartermail. | We can adapt a design chosen from template monster for an additional fee. | Date to show when site last updated. Keeps your site looking fresh and current. |
| | | | |
| | | | |
| | | | |
| | Social Networking Websites | Use your photo's as a background | |
| Keep out unwanted emails with smartermail's email spam filters. | Run your site as a social network. Perfect for clubs, communities and communication between business departments. Control over followers and chat in realtime. | With our easy templates instantly convert your website into a personal site in minutes with a picture of your choice. | There are a multitude of different style page layouts/tables using the latest in transparent graphics. |
| | | | |
| | | | |
We challenge you to find a similar system with so many features. Our sites are crammed with extras so there is never a worry that you will run out of ideas or have your creativity supressed.
Your site will look amazing with our custom made tools. Of course everything has been painstakingly programmed and tested so that you can benefit from a massive range of features without any technical knowledge whatsoever.
The best way to find out what you can do is to sign up for a free wesbite but if you haven't the time here's a non exhaustive list.
Benefits to you or your business
List, search & display details of your any listing including boats, cars, real estate, people etc...

Add a blogg style event calendar for all your upcoming events. Calendar date is highlighted to show event.

Show photo galleries of your events and competitions

Download forms

Add movies, flash animation, web gadgets and photo galleries to any page

Announce news events

Run your site as an online community allowing your web users to contribute to your site by adding comments with their own image attached to their profile.

Sell merchandise with an eshopcity package.

Set an area for internal staff requiring login to view or a members only area.
Benefits for your web users
Search engine friendly with area for adding search engine keywords.
Your web users can vote and rate each page including any comments left

Site maps created automatically

Advanced searching for your web users allowing them to search for any phrase in any page.

There is nothing to download or install and can be updated anywhere you have internet access.

Run your own personal blog.
Generate an income from your website
Easily add Google Adsense to your site and earn money advertising on your website

Using eShopCity e-commerce accept online payments for any listings you may display

Behind the scenes administration utility
Only professional quality presets to choose from.

Easily change the font and text color of your website

Update all the wording and phrases used.

Upload your own canvas image be it professionally designed artwork or a photograph.

An email account is supplied giving you online access to your email from within the administration utility.
Animated menu automatically built - no programming or design experience needed.
Simply select the flash text tool from the text editor. Enter some text and choose from over 100 different effects. No flash experience needed or any 3rd party software required.
Re-arrange and create your website with our design tool


We have put so much work to make sure the administration is fun and easy to use. This is where you will update your website. Every page has a comprehensive help guide which can be called at any time. You decide to use as many or as few features as you wish. As you progress with the system you will find yourself doing more with your site. A basic user interface or advanced user interface can be applied.
.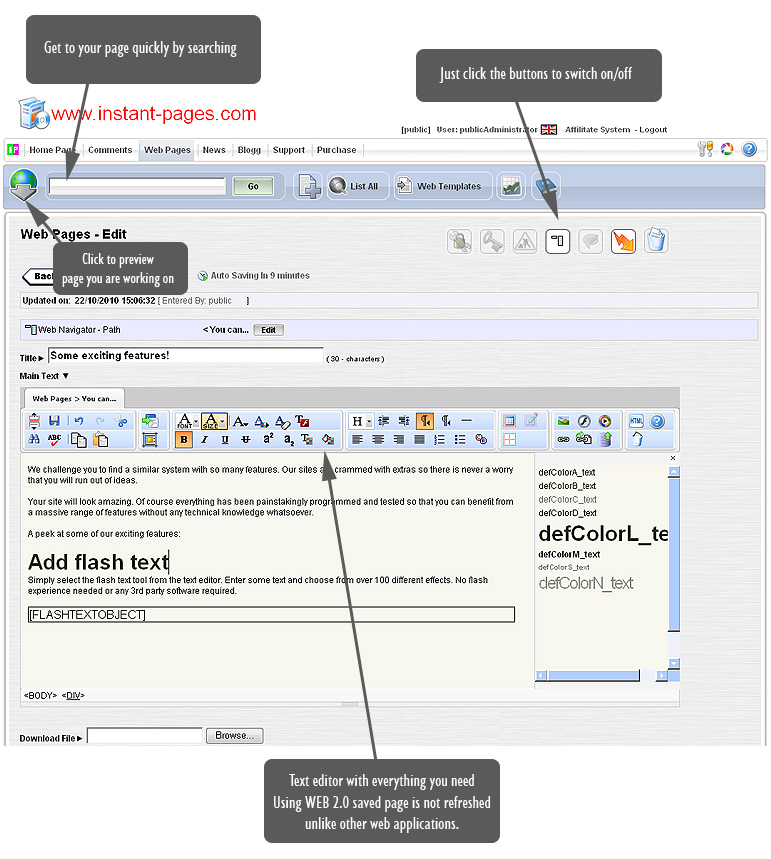 Easily build animated menus
Choose from a hundred different styles of menu. Even upload your own buttons. Menus are built using ordered lists so search engines can rapidly index your page.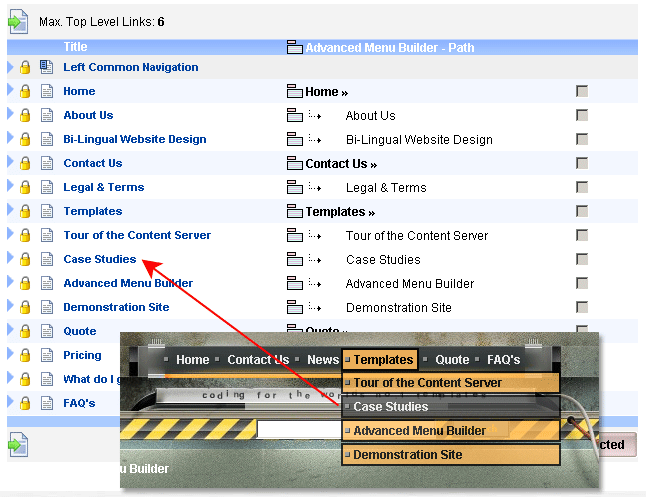 Show important dates or events to be displayed on your site. Dates will appear on a calendar appearing on all pages plus a more detailed view.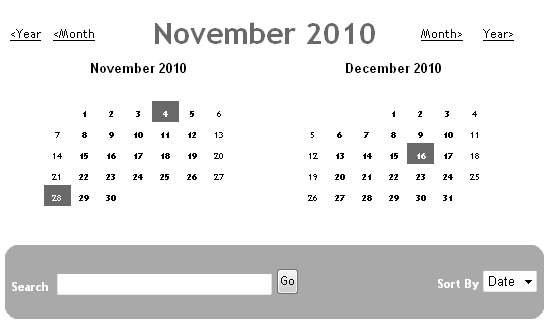 Simply select images from your computer and a gallery is automatically created. 7 styles to choose from including photo pictures, standard HTML and flash galleries.